I graduated recently from Queen Mary University of London with a First in English and History. I thoroughly enjoyed my degree, especially studying supernatural tales of the fin de siècle, as well as a wide range of contemporary writing from pulp horror to experimental literary fiction.
My attraction to teaching was borne from my involvement in a mentoring scheme for first-year English undergraduates, and assisting a Summer School course at my university. I decided I wanted to make a difference in students' lives by building their confidence in themselves and in their capabilities, and by inspiring in them a love of reading not only texts but also the world around them. I chose to apply to the GUTP because I wanted to learn about the principles of teaching while gaining practical, in-class experience.
The recruitment officer, Kate, was very organised and helpful in responding to my questions about the interview and the course, and I felt welcomed and encouraged all the way. Even though the interview was online, my interviewers ensured that it ran smoothly. They even gave me personal feedback on what I'd done well. My advice to people interested in applying to the GUTP is to just be authentically you. The team is genuinely curious about your subject interests and wants to know what makes you unique.
I've really been enjoying my time at my first placement school. The English department is close and supportive, sharing lesson plans and resources with each other. Many of the teachers trained through the GUTP themselves and so understand the process well. The GUTP training sessions have also been very helpful in building my subject knowledge and pedagogy, and it's been great befriending other trainees on the course. I would definitely recommend the GUTP to anyone who wants the opportunity to be immersed in the life of a school while learning from school-based practitioners.
November 2021
Details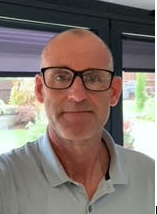 I graduated in 1996 from a part time Business School degree at Nottingham Business School, part of Nottingham Trent University, whilst also working Full time.
Before university, I was a soldier for 8 years, and then worked in hospitality for six or so years before moving into the hr / recruitment industry in the year 2000. More recently, I ran my own recruitment business for the last 15 years or so.
I have always wanted to teach, but being a parent, I found the whole system for 'late entry' to the profession a bit difficult not to mention virtually financially impossible. Spending 10 years or so as a part time rowing coach made me realise that teaching didn't have to be just a hobby. After much research, The GUTP's SCITT seemed to tick all the boxes for me, a good condensed and intense course but a school centred PGCE where I could attain the practical classroom skills required.
The recruitment process was fairly simple and quite easy, and I was given ample time to prepare for my interview which was great. The response and offer to join the course was prompt which really helped.
There are a few options available for teacher training but if looking to enter the profession in later life (I turned 50 during the first week of the course), the SCITT route seems the best option. Life skills definitely help but I would heavily recommend picking up on subject knowledge as early as possible and definitely get ahead over the summer months on the recommended reading list.
I went through the recruitment process during the pandemic. All was handled as well as could have been expected and I was given advance notice of the process so I had sufficient time to prepare, all involved during the interview and presentation made me feel very welcome (Kate, Ann and Helen) and advice was offered every step of the way.
Having been out of academia and learning for some 30 years, I'd strongly recommend getting ahead on the reading, I've struggled a bit with the theoretical side of things but have had plenty of support and advice from others on the course and from everyone on the GUTP team (big shout out to Assie) which has really helped. My SBT (school mentor) has been fantastic and is a really great source of practical skills and experience that I am able to draw on.
I would recommend The GUTP to others; the team have always been quick to respond and are extremely supportive and helpful.
October 2021
Details

Funnily enough, I have always known that I wanted to become a teacher. Encouraged by my Geography teacher in 2016 I finished high school in Slovakia, moved back to the UK and started my Geography BSc at the University of Bristol. The next three years flew by, a whirlwind of lectures, seminars, field work trips and the odd strike. By the end of my time at Bristol I was craving routine and the chance to get stuck into a job that would offer me a new challenge.
Luckily, I found an advert for a learning support assistant in a local secondary school and took my chances. I knew that this job would be perfect, it would allow time to build my confidence in a secondary school setting as a member of staff and be the first big step toward becoming a geography teacher. My time as an LSA was invaluable, I was surrounded by a wonderful team and got to experience teaching from an alternative perspective. As a TA, I worked with students of all abilities and began to understand the most effective ways in which to encourage learning for all students. If you get the opportunity, I would recommend working as a TA or gaining as much experience working with young people as possible, this experience made sure I was best prepared for the challenging year ahead. I was going into my teacher training year as ready as I would ever be!
I was attracted to the GUTP as It was the route chosen by many of the teachers I had worked alongside. The GUTP works with schools local to me, in South Northants, and provides trainees with the chance to get stuck into teaching right away. After attending one evening introductory session, I applied to the GUTP and have never looked back! The wonderful people at the GUTP ensure that you feel supported through every stage of the process. In the early days of the application process, it is easy to feel lost with the documentation and different forms to complete but the GUTP staff were so helpful in pointing me in the right direction. If you are thinking of applying, I would recommend getting in touch with the GUTP recruitment team as I am sure they would be happy to talk you through the application process.
My life at the moment as a new associate teacher is busy but I am enjoying this new journey. As well as our teaching timetables, our days are dotted with lectures and workshops. These have been very useful in helping us link our teaching practice to academic study and also as a chance for us to meet other ATs. I have made some new friends through the GUTP and I am sure they will be a great source of support throughout this training year and in years to come.
I would recommend the GUTP to anyone who is looking to start teacher training. It is great to know that you are able to make a difference to schools in your local area and follow in the footsteps of many great teachers who have previously trained with the GUTP.
November 2020
Details
Contact Information
The Grand Union Teacher Training Partnership
c/o Sponne School
Brackley Road
Towcester
Northamptonshire
NN12 6DJ
Tel: 01327 350284 ext 253